FOR SALE
TWO CARS FOR SALE
 Series II Morris 8 four-door sedan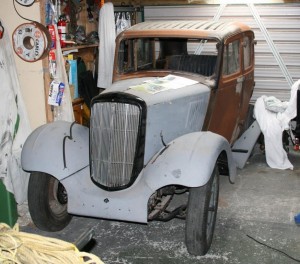 Great body, guards and chassis. Radiator, gearbox, diff., brakes, axles all complete. Fully re-wired, door cards, new carpet. Lots of spares, etc. Needs paint and motor.
Series I Morris 8 two-door sedan.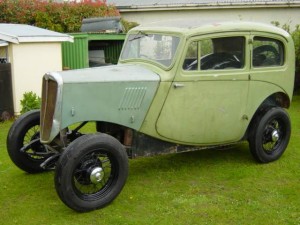 Rolling chassis, diff., rear axles, etc. No gearbox. Heaps of body spares for both cars.  Both chassis are in excellent order. SALE DOES NOT INCLUDE SPOKE WHEELS shown in the photo – it has easy clean steel wheels.
Price; $1200 ono the lot.
Pick up required. Vehicles are located near Hokitika.
Phone: 03 429 27227 or 027 371 4896.    Email;  hemiterakau@outlook.com
---
1937 Morris 8 Series I – 4 Door
He is the last of the Series One with the wire wheels and honeycomb radiator.
Built 1937 and is a 4-Door. A personalised number plate   37 M8.  The motor is still an 8hp and had to be bored out to twenty thou oversize. Still using the 6 volt system.
He was restored over seven years from 1982 – 1989 when in October was registered and wof and on the road. During that time we had our children and it was our second car, well-loved and used. So consequently the paintwork shows wear and tear.
We have the registration on hold over a number of years since 2013.
Julie and John Tomlinson, Stoke, Nelson
P; 03 5473316 E; Julietomlinson@xtra.co.nz
---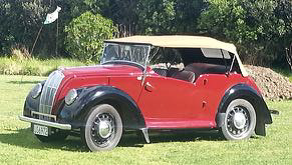 1939 Morris 8 Series E Tourer
I have owned this car for the past 12 years. In lovely condition and will have a new Warrant of Fitness.
Very few Series E Tourers were built. The war stopped production in 1939 and after the war production was not continued. About 10 years ago I located 4 other Series E Tourers in NZ – two in Christchurch, one in Matamata and a lovely one in Dunedin. I would be interested if there are others.
The car is located in Kerikeri. Asking price: $16,000
Contact : Denis Thomson ; P; 021 407732, B; 09 4077 360, E; sandy@tsurvey.co.nz